Heidi Petran , sent us some other anecdotes regarding Mon Chéri, their little Coton de Tulear female. They live in USA. Everybody remember the first part of the histories of this little white fluffy ball . So go on for :
Mon Cherieís Summer
Hi everyone! The summer of 2003 is coming slowly to an end and I have lots to tell you. I just hope all the cotons have had a fun and busy summer like I did.
PART I
First I spent a lot of time with my coton girlfriend Lady. She used to live around the corner from me, but moved away. Every time we walked past her old house, my mom had to tell me that she doesnít live here anymore. From my sad eyes, she must have seen that I miss her. So she packed me in my car seat and we drove to her new house. We played and chased each other. Then mom would take us to McDonalds for an ice-cream cone. Everyone was staring at us two white dogs enjoying the ice cream. We both are addicted to it now.
Lady came over to my house a whole weekend for a sleepover. Mom even gave her a bath. She behaved better than I did in the bathtub. I always spin and do circles, while Lady just stands there. Lady doesnít eat every treat. She waits just in case something better comes along. We both got to sleep on momís bed with her. I guess we are spoiled, but Mom says we are "loved". I got to watch lots of TV with Lady and my mom. My favorite channel is the Animal Planet. I always want to play with the animals there, especially dogs. Lady doesnít care.
| | | |
| --- | --- | --- |
| | | |
| we love ice cream | | MC watches TV |

sniffing something good

watching TV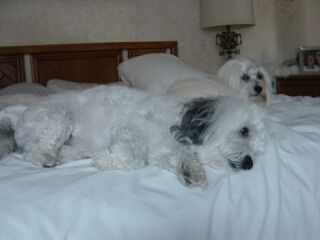 resting in momís bed
Part II
During the summer I also spend a lot of time outdoors. Every day I helped my mom in the garden. I mean, I sat in the grass and supervised how she watered and cared for the flowers and other plants. She even has 4 tomato plants growing for me: I love tomatoes with my dinner.

next to my Mon Cheri rose
All summer there was road construction right outside of our house. Of course, each morning I had to go and greet the workmen. I barked at them since they woke me up from my beauty sleep at 6:30 AM. After a few days, everyone already knew me and waved to me when I walked by. They made me their "boss".

Not happy about road construction

TOO many bosses
Part III

in her grooming basket
On August 16, I celebrated my fifth birthday. It seems just yesterday that I came as a puppy to my momís house. I got lots of presents and cards. I let the pictures speak for themselves.

blowing out the candle on her carrot muffin.

birthday wishes from Sir Oliver

some of the birthday presents
Part IV
Now you probably wondered why I received a swim vest as a birthday present. You see Mom planned to take me on a canine cruise on Lake Michigan. Every Sunday during the summer at 10 AM, Captain Canine of Mercury Cruise Lines took the boat out for a 90-minute cruise. On my boat trip there were about 30 dogs and their owners. There were doggy toilets and water bowls conveniently placed. The dogs came in all sizes, some very small; yes even smaller than I; and some huge. We saw the beautiful skyline of Chicago. I donít know if I really like all that water. But I was safe since I wore my swimming vest. Most had never seen a Coton de Tulear. So mom had to explain where I came from.

coming on board

testing the life vest

safe with Mom

socializing with a bichon
| | | |
| --- | --- | --- |
| | | |
| skyline of Chicago | | socializing |
Part V
The end of my summer was the annual swimming party for all the pooches and their owners at the park district pool. There were more dogs than last year. Everyone had a smile on his face. I had invited Lady to go swimming with me. Neither of us wanted to go into the water since it was a little cold. But we finally went in after Mom; we didnít want to be left behind. We were naturals. Lady dogpaddled even in the air; she kept right on swimming. All the dogs came over to sniff us. For goodness sake, havenít they ever seen a COTON before?

with Lady and Jacqui

on lifeguard duty

dripping wet

barking at all the dogs

swimming with Mom
Now, donít you agree that I had a ball this summer? I hope my Coton relatives did too. Bye for now.

September 11 Memorial